---
Press Release
Posted: April 3, 2017
Washington – Today, Rep. Mike Thompson (CA-05)—Co-Chair of the Land Conservation Caucus—led an effort to support funding for the North American Wetlands Conservation Act (NAWCA). In a letter to Chairman Ken Calvert and Ranking Member Betty McCollum of the Appropriations Subcommittee on the Interior, Thompson called attention to the importance of our wetlands in preventing flooding, reducing damage from storm surges, and mitigating the effects of soil erosion.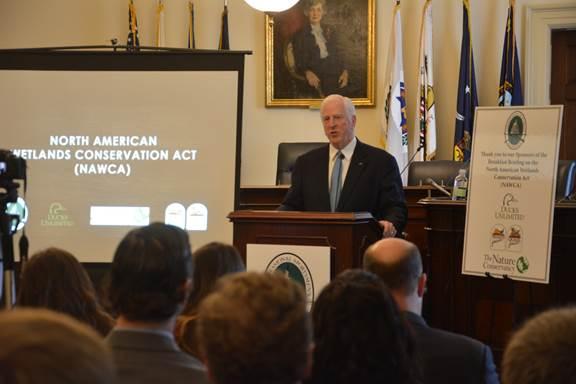 "Our wetlands are a critical habitat for a number of species, and they play a key role in minimizing the damage from storms and severe weather," said Thompson. "As a duck hunter myself, I know firsthand how important it is to protect these key habitats. While our country has lost much of its original wetlands, NAWCA has helped conserve and restore more than 33.4 million acres. It is one of our most cost-effective conservation programs. Every dollar the federal government invests is matched by an average three dollars from non-federal partners. And that money goes right back into our economy, as many of the lands NAWCA protects are used for hunting, fishing, and outdoor recreation—a $646 billion industry. Studies have also shown NAWCA creates about 7,500 jobs each year. Clearly this program is working, and Congress should make sure it gets the funding it needs."
"NAWCA continues to be a critical tool to help conserve America's most vulnerable wetlands. We are blown away by the bipartisan support shown in the Dear Colleague letter and the leadership of Representatives Thompson, Young, LaMalfa and Lowenthal. Ducks Unlimited looks forward to continuing to work with members on both sides of the aisle to secure the funding this program needs and deserves," said Whitney Tawney, Senior Water Policy Advisor, Ducks Unlimited.
The U.S. has lost roughly 52 percent of its original wetlands. Every year, an addition 80,000 acres of wetlands disappear. NAWCA helps reduce that trend by leveraging federal dollars to raise contributions from private landowners, corporations, nonprofits, state and local governments, and other organizations in support of conservation grants. In the last 20 years, $1.48 billion in federal funding has been matched by $4.34 billion in non-federal partner contributions.
NAWCA has strong support from farmers, ranchers, all 50 state wildlife agencies, and countless other groups. Demand for the program continues to outstrip available funding on a yearly basis. This year, more than 100 bipartisan Members cosigned the letter—the highest level of support it has seen since 2008. The full text of the letter can be found here.
Thompson is also a member of the Migratory Bird Conservation Commission, and he is leading legislation to reauthorize NAWCA for the next 5 years.