---
Press Release
Posted: June 11, 2022
Washington – Today, Rep. Mike Thompson (CA-05), Giffords Courage Senior Advisor and former firearms executive Ryan Busse, Rep. Jahana Hayes (CT-05), and Rep. Jason Crow (CO-06) held a press conference on Capitol Hill calling for the pressing need to pass federal legislation to end gun violence and help save lives.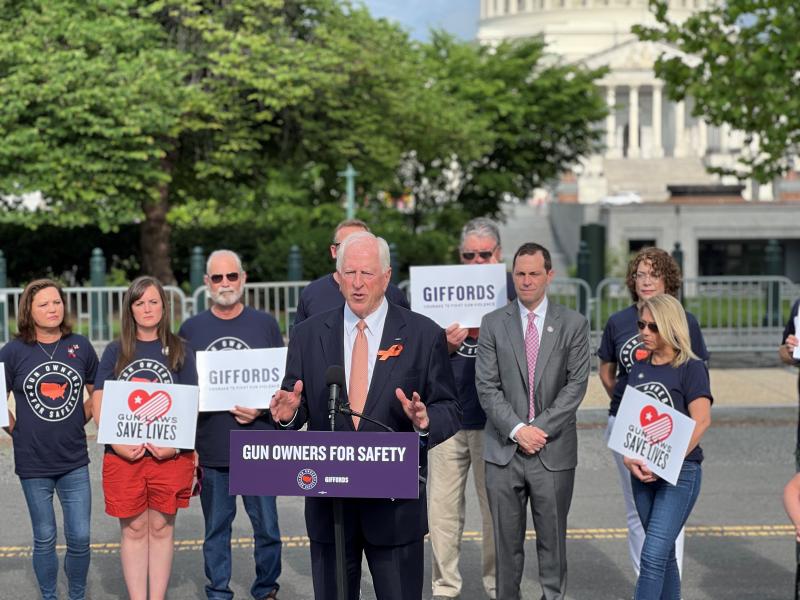 "Responsible gun owners know that there are commonsense measures that will help save lives and protect our communities while respecting the Second Amendment," said Thompson. "Today, I joined my colleagues, Giffords, and gun owners from across the country to advocate for gun violence prevention measures that will save lives and help prevent mass shootings and the gun violence our communities experience every day that often goes unreported by the media. We know that enough is enough, and Senate Republicans must act on the bills that the House has passed and will pass this week."
"I spent 25 years working in the gun industry and many of my best days were spent with guns. But I am worried about our country, our kids, and our democracy. That's why I'm a Gun Owner for Safety and a senior advisor at Giffords. I still value and own guns, but someone has to stand up for responsibility. And I am doing it. I know that none of our freedoms will exist without responsibilities. I am proud to stand here today with legislators like Reps. Thompson, Hayes, and Crow and my fellow Gun Owners for Safety to say that the NRA doesn't speak for us, and it's time to pass gun safety legislation. Enough is enough," said Ryan Busse, senior advisor at Giffords and former firearms executive.
"I hear people talk a lot about courage. Doing the right thing and voting for common sense gun legislation does not take a whole lot of courage. Courage is the students in my class who continued to come to school even when they were in so much pain. Courage is the families in Newtown who continue to hold their community together and others. Courage is the families and survivors who tell their stories over and over to help us better understand gun violence. What we are asked to do is not political courage- it's our job. Today, I will do my job and vote for the Protecting Our Kids package, I urge my colleagues to do the same," said Hayes.  
Today, the House of Representatives will consider Thompson's Protecting Our Kids Act, legislation that would:
Raise the lawful age to purchase a semiautomatic centerfire rifle from 18 to 21 years old
Establish a new federal offense for the import, sale, manufacture, transfer, or possession of a large capacity magazine, with exceptions for certain law enforcement uses and the possession (but not sale) of grandfathered magazines; allow state and local governments to use the Edward Byrne Memorial Justice Assistance Grant Program to compensate individuals who surrender large capacity magazines through a buyback program
Establish new federal offenses for gun trafficking and straw purchasers and authorize seizure of the property and proceeds of the offense
Establish voluntary best practices for safe firearm storage and award grants for Safe Firearm Storage Assistance Programs;
Establish requirements to regulate the storage of firearms on residential premises; create criminal penalties for violation of the requirements
Build on ATF's regulatory bump stock ban by listing bump stocks under the National Firearms Act and statutorily banning the manufacture, sale, or possession of bump stocks for civilian use
Build on ATF's regulatory ban of ghost guns by ensuring that ghost guns are subject to existing federal firearm regulation by amending the definition of "firearm" to include gun kits and partial receivers and changing the definition of "manufacturing firearms" to include assembling firearms using 3D printing.
Later this week, the House will continue to take action by considering the Federal Extreme Risk Protection Order Act, commonly known as a red flag law, introduced by Reps. McBath and Carbajal.