---
Press Release
Posted: April 23, 2017
Napa, CA – Yesterday, Rep. Mike Thompson (CA-05) held town hall meetings in Napa and Martinez with Ranking Member John B. Larson (CT-01) of the Social Security Subcommittee to discuss their plans to strengthen Social Security. Each month, more than 130,000 men and women in California's Fifth Congressional District receive nearly $170 million in benefits. Social Security is a lifeline for millions of families in California and across the nation, which is why Thompson and Larson introduced the Social Security 2100 Act to raise benefits, cut taxes, and prevent seniors from retiring into poverty.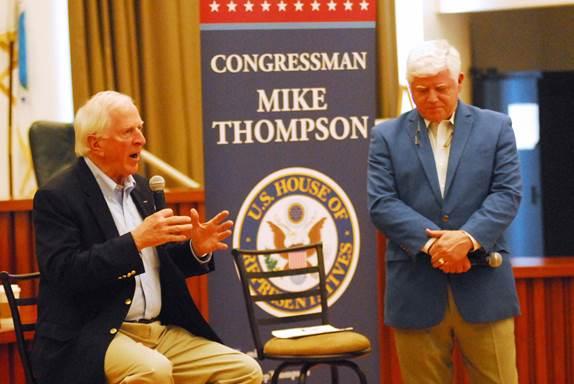 "Americans worked hard to earn their Social Security, and they deserve the peace of mind that comes from knowing their retirement is secure," said Thompson. "In eighty years, Social Security has never missed a payment. It is the most reliable government program, but it's fallen behind the times. No one who's worked hard and played by the rules should retire into poverty, so our plan would raise benefits across the board and make sure the new minimum benefit is well above the poverty line. We can protect seniors and make sure Social Security is solvent for our kids and grandkids, and we can do it without cutting benefits or hiking the retirement age."
"Social Security is the bedrock of our retirement system. It is America's insurance program that workers pay into for retirement, disability, and survivors benefits. The common sense steps laid out in the Social Security 2100 Act will expand benefits and make the system solvent for the next 75 years and beyond. I thank Rep. Thompson for introducing this bill with me and for inviting me out to his District to discuss with seniors how the Thompson-Larson plan will help them," said Larson.
Thompson and Larson discussed their proposal with seniors in Napa and Martinez, hearing firsthand how Social Security impacts those in the Fifth Congressional District and sharing how the Social Security 2100 Act can help them.
The Social Security 2100 Act would:
Increase benefits by an average 2 percent for all beneficiaries.
Cut taxes by raising the income thresholds before Social Security is taxed. Currently, individuals who earn $24,000 a year and couples who earn $32,000 a year are taxed on benefits they receive. This plan would raise those thresholds to $50,000 and $100,000 respectively, resulting in a tax cut for about 11 million Americans.
Raise the new minimum benefit for Social Security to 120 percent of the poverty line, preventing seniors from being able to retire into poverty.
Change the formula for calculating the Cost of Living Adjustment (COLA) to better reflect the actual expenses seniors face.
Ensure millionaires and billionaires pay their fair share by scrapping the cap on contributions into the Social Security Trust Fund for those earning $400,000 a year or more.