---
Press Release
Posted:
Sonoma – Today, Rep. Mike Thompson (CA-04) presented a check to Sonoma County Transportation Authority officials for the State Route 121/12/8th Street East Intersection Improvements project. Rep. Thompson secured this funding in the Fiscal Year 2023 government funding package.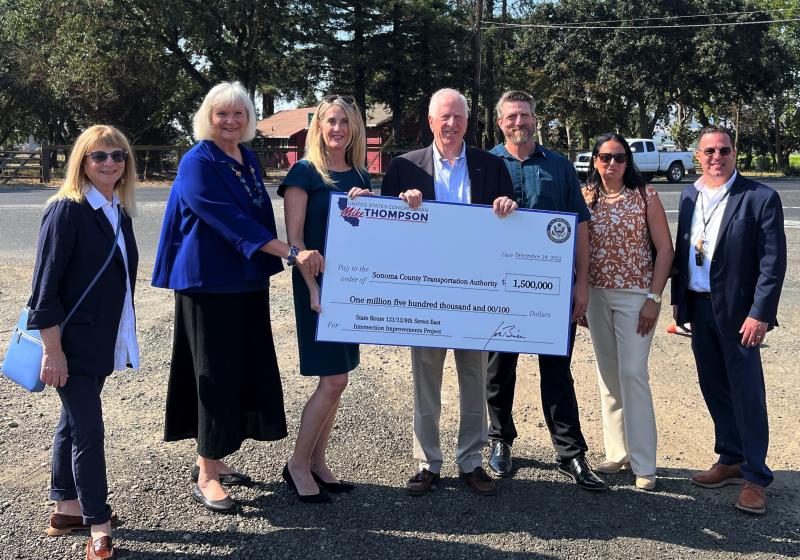 "Investing in our infrastructure is investing in our future, and this project will help to keep our community in Sonoma safe," said Thompson. "I worked with local leaders to identify the need for this funding to help minimize the risk of potential accidents while reducing idle times and greenhouse gas emissions. This project is a win-win for our community, and I look forward to seeing the new intersection help keep drivers, pedestrians, and cyclists safe."
"The improvements planned for 8th Street and 121 will improve safety and support local and tourist travel," said Suzanne Smith Executive Director of the Sonoma County Transportation Authority. "Receiving support from Congressman Thompson in the form of federal funds will enable us to leverage State funds and get this project ready to build."
The roundabout project incorporates Vision Zero strategies by reducing the number of conflict points at the intersection and forcing vehicles to reduce speeds as they approach the intersection greatly improving safety for all users. The project will reduce greenhouse gas emissions by minimizing vehicle idle times and encouraging multi-modal users by incorporating safety features for bicycles and pedestrians to cross State Route 121/12 to connect the proposed Sonoma Schellville Trail with the planned San Francisco Bay Trail to the south.
The $1.5 million secured by Rep. Thompson will be used for the environmental clearance and design of the proposed project and would be directly matched by $375,000 in local funds. This project is an important strategy to reduce congestion, improve quality of life, improve access to equity priority communities, and pursue a comprehensive and more sustainable transportation network for our future.