---
Press Release
Posted:
Lake County — Today, Rep. Mike Thompson (CA-04) presented a check for $750,000 to Lake County officials for restoration of Middle Creek flood infrastructure. The project will remove up to 40 percent of phosphorus entering Clear Lake from Middle and Scotts Creeks and reduce chlorophyll concentrations by 33 percent.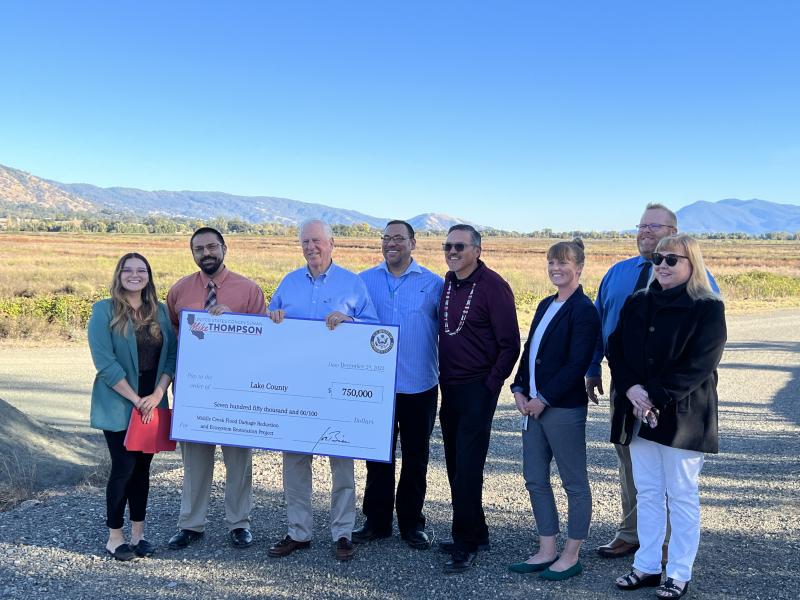 "Cleaning up the environment and protection from flooding is crucial to the health and safety of our community," said Thompson. "This restoration is critical to preserving Clear Lake, reducing the cost of treating our drinking water, and preventing severe flooding. Proud to have secured this funding for Lake County."
"There is no project more critical to sustainable Clear Lake water quality and a strong outdoor-recreation based Lake County economy than the Middle Creek Flood Damage Reduction and Ecosystem Restoration Project," emphasizes Eddie Crandell, Lake County's District 3 Supervisor. "Congressman Thompson understood completing final Feasibility Stage steps with the United States Army Corps of Engineers was highly urgent and essential to moving this project forward, and we were grateful he fought hard to ensure this work was funded."
"Clear Lake is one of the oldest lakes in North America, and it needs more wetland area to thrive," notes Marina Deligiannis, Deputy Water Resources Director for the County of Lake. "Current sediment and phosphorous loads are estimated to be twice the pre-European levels, and about 71% of the sediment and phosphorous entering Clear Lake comes from Scotts and Middle Creek watersheds. This project could reduce Clear Lake phosphorous levels by 40%, helping to preserve a national treasure. Thank you to Congressman Thompson for recognizing this as a matter of high federal priority."
The funding that Rep. Thompson secured will help facilitate the removal of three miles of substandard levees, one pumping station, and one weir structure. Removal of the structures would carry tremendous ecological benefits by improving Clear Lake water quality and storage capacity.