---
Press Release
Posted: January 16, 2023
Napa – Today, Rep. Mike Thompson (CA-04) presented a check for $1,796,139 to OLE Health for their Electronic Records Project. Rep. Thompson secured this funding in the Fiscal Year 2023 government funding bill.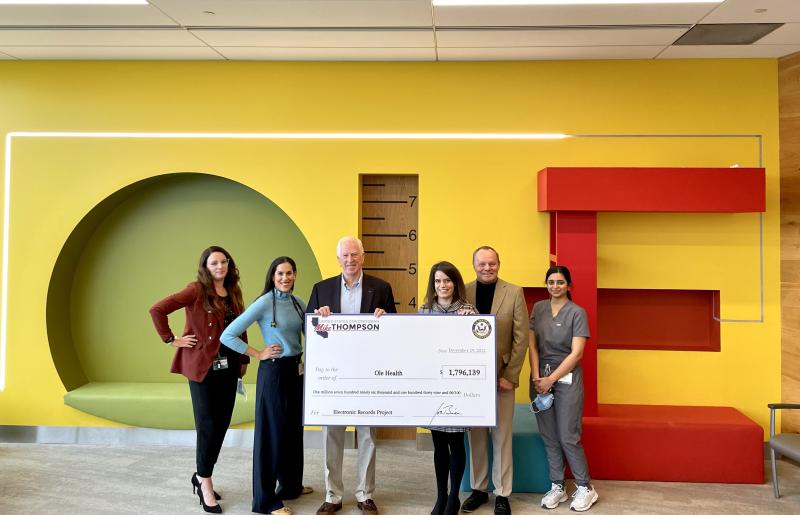 "Maintaining accurate and up-to-date medical records is essential to the well-being of our community," said Thompson. "I was proud to work with OLE Health to identify the need for this funding and work to secure it in the government funding bill. This project will improve care for those who rely on OLE Health and will reduce the duplication of tests, unnecessary costs, and delays in service. I look forward to seeing how this funding will help OLE provide even better care for their patients."
"We are thrilled to receive this funding to support upgrading our electronic health records system, which will enable enhanced collaboration among providers within and outside OLE Health to better serve our patients. On behalf of OLE Health and the vulnerable individuals we serve, thank you, Congressman Thompson, for being our champion in Washington," said Alicia Hardy, CEO of OLE Health.
Epic is the most commonly used electronic health records software in the country and has been built specifically for health care practices. It provides health centers with improved workflows that are more efficient and therefore lead to improved patient outcomes. The implementation of Electronic Health Records will benefit thousands of patients in Napa County and surrounding communities.
Learn more about this project here.