---
Press Release
Posted: March 30, 2017
Napa, CA – Today, Rep. Mike Thompson (CA-05) formally announced Dr. Rhonda Renfro as this year's Woman of the Year in Solano County. In February, Thompson accepted nominations from across the Fifth Congressional District for his annual awards honoring women who make an impact in our community. After careful consideration, Dr. Renfro was selected for her work as the founder and Director of Club Stride.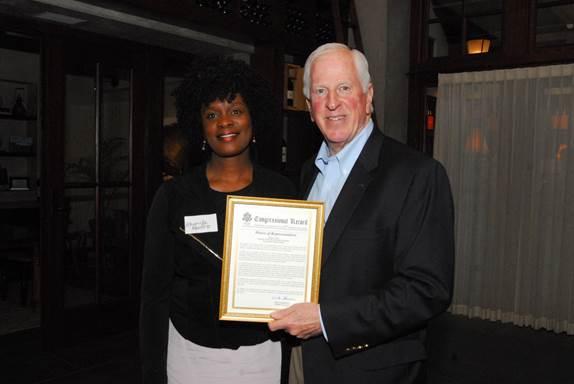 "Dr. Renfro has been a tireless and passionate advocate for our youth," said Thompson. "Through Club Stride, she has empowered our young people to speak out against injustice on Hype 808 Radio. She has also given them a safe afterschool study hub to help them improve academically, connect with their peers, and learn studying techniques. It is truly an honor to present Dr. Renfro with this award for all she has done to help kids in our community succeed."
Dr. Renfro's work with Hype 808 Radio provides a weekly radio show, run and hosted by youth in Vallejo and Solano. Each week, they discuss current events, social justice, and other topics while learning new skills in media and communication.
This is the third annual Woman of the Year Awards. Thompson created the award in honor of Women's History Month. Each year, one woman from the each of the counties in the Fifth Congressional District is recognized for her contributions to our community. A complete list of this year's winners follows:
Sylvia Villa-Serrano (Contra Costa County)
Madelene Lyon (Lake County)
Karen Cakebread (Napa County)
Dr. Rhonda Renfro (Solano County)
Ronit Rubino (Sonoma County)
Magrit Mondavi (special posthumous award presented to her daughter, Annie Roberts)