---
Press Release
Posted: April 1, 2017
Napa, CA – Today, Rep. Mike Thompson (CA-05) formally announced Karen Cakebread as this year's Woman of the Year in Napa County. In February, Thompson accepted nominations from across the Fifth Congressional District for his annual awards honoring women who make an impact in our community. After careful consideration, Cakebread was selected for her work with the Napa Valley Vinters and her community service in the wake of the Valley Fire.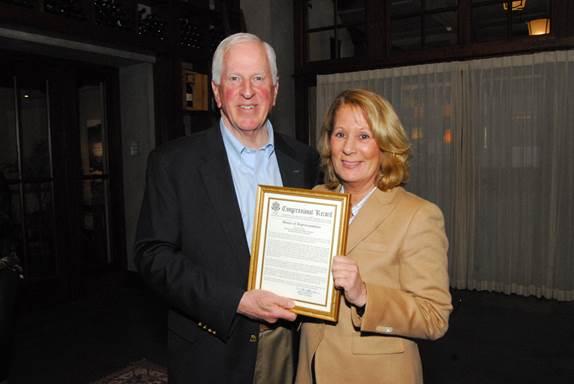 "I've often said that our charity and volunteerism define our community, and Karen is living proof," said Thompson. "She has often been recognized for her leadership in the wine community, from her work with the Napa Valley Vinters to her stewardship of the annual Auction Napa Valley. But Karen has also made it a point to always give back, serving on the boards of the St. Helena Hospital Foundation, Elaine Mackie Charitable Trust, and the Calistoga Chamber. Her defining moment, though, came in the wake of the Valley Fire where she helped direct meals and supplies to families who had been displaced. It is an honor to present her with this award."
Cakebread was also instrumental in ensuring the Calistoga Winegrowers received a rightful designation as an American Viticultural Area (AVA), and continues to help local businesses grow and find success.
This is the third annual Woman of the Year Awards. Thompson created the award in honor of Women's History Month. Each year, one woman from the each of the counties in the Fifth Congressional District is recognized for her contributions to our community. A complete list of this year's winners follows:
Sylvia Villa-Serrano (Contra Costa County)
Madelene Lyon (Lake County)
Karen Cakebread (Napa County)
Dr. Rhonda Renfro (Solano County)
Ronit Rubino (Sonoma County)
Magrit Mondavi (special posthumous award presented to her daughter, Annie Roberts)