---
Press Release
Posted: April 1, 2017
Napa, CA – Today, Rep. Mike Thompson (CA-05) formally announced Sylvia Villa-Serrano as this year's Woman of the Year in Contra Costa County. In February, Thompson accepted nominations from across the Fifth Congressional District for his annual awards honoring women who make an impact in our community. After careful consideration, Villa-Serrano was selected for her work with the Hercules Lion Club and the Hercules Chamber of Commerce.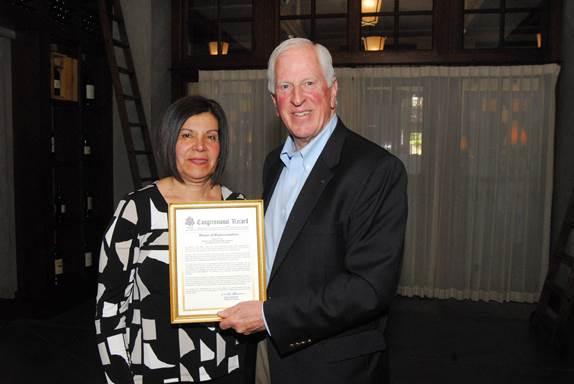 "Sylvia has been a tireless advocate for children and seniors," said Thompson. "Her work with the Lions Club has helped Hercules students attend youth exchange programs to Japan, Italy, and Sweden—broadening their education and providing them with truly once-in-a-lifetime opportunities. And it was though her efforts that everyone in Hercules can now enjoy the beautiful children's garden at our library. Her volunteerism and community service have greatly enriched us all, and it was my honor to present her with this award."
In addition to her work with the Hercules Lion Club, Villa-Serrano was also a leader on the Hercules Chamber of Commerce. There, she organized the city's first Business and Consumer Expo.
This is the third annual Woman of the Year Awards. Thompson created the award in honor of Women's History Month. Each year, one woman from the each of the counties in the Fifth Congressional District is recognized for her contributions to our community. A complete list of this year's winners follows:
Sylvia Villa-Serrano (Contra Costa County)
Madelene Lyon (Lake County)
Karen Cakebread (Napa County)
Dr. Rhonda Renfro (Solano County)
Ronit Rubino (Sonoma County)
Magrit Mondavi (special posthumous award presented to her daughter, Annie Roberts)